Every Similarweb subscription receives data credits, which can be used to download excel reports or make API calls.
What are data credits?
Data credits are a flexible way to consume data from Similarweb, through Excel downloads or API.
Credits give you the ability to download a variety of data from across the Similarweb platform. The value of credits varies depending on the report you're downloading. For example:
1 credit = 1000 rows of data for Keywords
1 credit = 200 rows of data for all other tables
The amount of credits per report will be reflected in the process before you complete the download. Check out How do I know how many credits I have and how many credits a download will require? for more information.
Note: Data Credit pricing varies for the API. See the Developer Hub for more information.
What does this mean for you?
Data Credits give you more visibility and control over the data you export from Similarweb. When exporting data via excel download, you'll see how many data credits you have, and how many credits your download will consume, giving you full transparency into your credit balance.
Data credit limits vary by package. The more advanced your package, the more data credits you have. And don't worry, data credit limitations are based on average usage data.
For example, a typical query to download keywords for an associated domain is equivalent to 1 data credit. Based on competitive research of common user consumption, we have allocated 100 credits per user on the Competitive Intelligence Explorer Package. Check out our Pricing page for more information.
What if I do reach the data credit limit on my package?
If you reach the data credits limit on your package, that means you're downloading a large quantity of data from the Similarweb platform. In this case, we think there's a better way.
The Similarweb API is a great solution to exporting data in bulk. Reach out to us to learn more!
How do I know how many credits I have and how many credits a download will require?
When you click to download an excel file, you'll be prompted with a widget where you can choose the amount of rows of data you'd like to download. Based on your selection, you'll see your credit balance, and the cost of the download.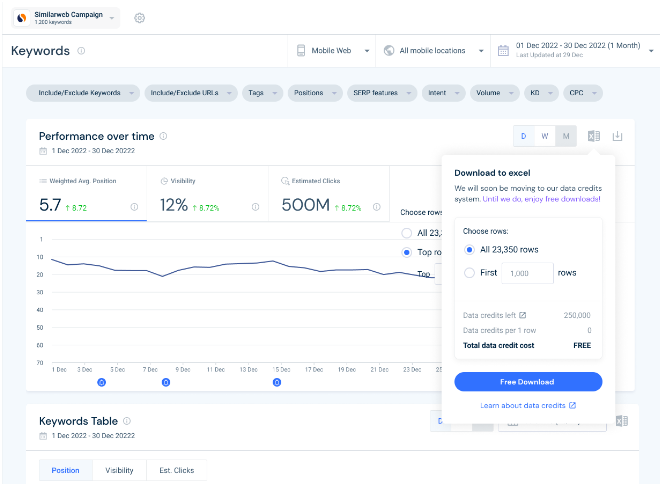 Note:
Click the icon next to "Credits left" to check your credit balance in account settings.
If you re-download the same file within 24 hours, then the 2nd download is free.